Arsenal 0

:

0 Marseille
-
:
-
Venue:

Emirates Stadium, England
Referee:

Paolo Tagliavento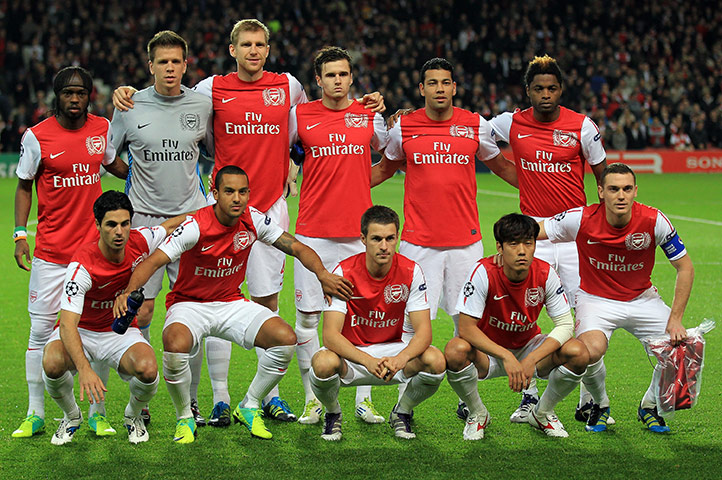 Arsenal dipaksa Marseille untuk sekadar berpuashati dengan berkongsi satu mata selepas seri 0-0 di Emirates Stadium bagi game ke-4 UEFA Champions League pagi tadi.
The Prof cuba melakukan beberapa
rotation
dalam barisan pemain pagi tadi dengan menurunkan Carl Jenkinson dan Thomas Vermaelen. Sementara, striker korea Park Chu-Young diberikan kesempatan untuk merasai kehangatan debutnya di UEFA Champions League bersama The Gunners.
Di awal 10 minit permainan, pasukan lawan Marseille lebih dilihat mendominasi perlawanan. Skuad kendalian Didier Deschamps juga berjaya melakukan beberapa cubaan ke arah gol dan hampir-hampir sahaja menewaskan Szczesny.
Sementara Arsenal juga mempunyai peluang terbaik dari Theo Walcott apabila sepakan leret di minit ke-10 sempat ditepis oleh keeper Marseille, Steve Mandanda.
Arsenal selepas itu secara beransur-ansur mendapat rentak dan mula menguasai permainan dengan serangan-serangan yang dijelmakan Aaron Ramsey, Gervinho, dan Theo Walcott. Namun Arsenal berpeluang paling baik untuk mendahului perlawanan tapi peluang yang diperolehi Ramsey di minit ke-21 dan 30 gagal dijelmakan dengan gol.
Arsenal sekali lagi mendapat peluang sebelum menutup separuh masa pertama hasil tendangan bebas Mikel Arteta, namun sedikit melencong ke sebelah kanan gol gawang Marseille. Ia meletakkan separuh pertama berakhir dengan 0-0.
Memasuki separuh masa kedua, Marseille sekali lagi menunjukkan nafsu awal mereka untuk mencari gol apabila sempat menguji gawang Arsenal melalui cubaan Andrew Ayew tapi sedikit melewati dari gawang Szczesny.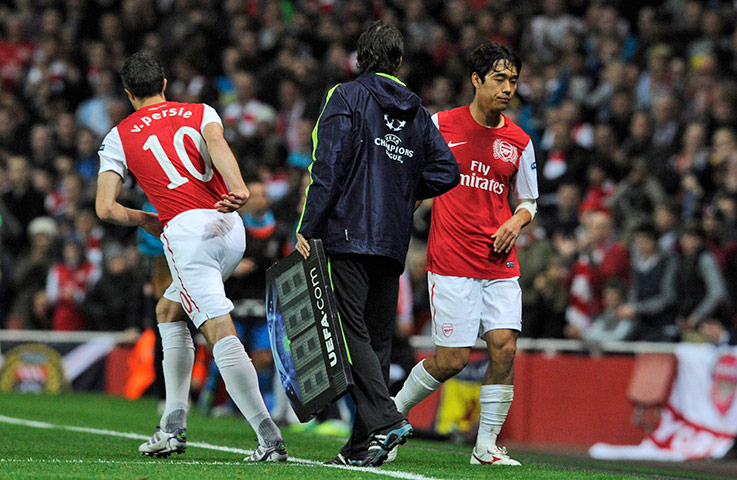 Panaskan bangku simpanan balik: Park gagal memberikan aksi yang diharapkan dan digantikkan pada minit ke-62
Arsenal yang mengharapkan untuk mendapat mata penuh di Emirates segera melakukan dua pertukaran, Tomas Rosicky dan Robin van Persie dimasukkan untuk memberikan tenaga baru yang lebih tajam di barisan serangan.- van Persie sekali lagi diharap mampu menjelmakan
sentuhan gol
nya!
Salah satu peluang terbaik diperoleh Van Persie yang berjaya melepasi kawalan dari bek Marseille selepas menerima hantaran Rosicky, namun dari sudut yang hampir sama ketika menjaringkan gol ke-5 ketika bertemu Chelsea, namun kali ini
captain
van Persie cuba mengambil pendekatan berbeza dengan tidak merembat kencang tetapi cuba ingin memperdaya Mandanda dengan melakukan lob tapi bijak dibaca oleh keeper Mandanda.
Marseille 2nd Keeper: Ada sentuhan disitu, Sayang takde penalti diberikan!
Sehingga ke penghujung
injury time
, Arsenal terus menekan ke kubu Marseille namun tetap gagal untuk mencari gol kemenangan dan terpaksa berpuas hati dengan kedudukan 0-0.
Dengan keputusan ini Arsenal dan Marseille masing-masing hanya dibezakan 1 mata dan berada di dua tangga teratas kumpulan F dengan Arsenal di puncak mengumpul 8 mata.
Barisan pemain:
Arsenal:
Szczesny, Mertesacker, Vermaelen, Andre Santos, Jenkinson, Arteta, Ramsey (
Rosicky
), Song, Park (
Van Persie
), Walcott, Gervinho (
Arshavin
)
Marseille:
Mandanda, N'Koulou, Morel, Diawara, Fanni, Diarra, Cheyrou, Valbuena (
Lucho Gonzalez
), Remy (
Amalfitano
), A. Ayew, J. Ayew (
Gignac
)