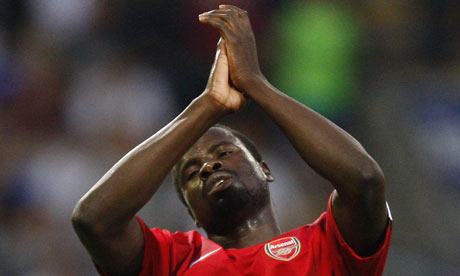 Emmanuel Eboue - Player serba boleh Arsenal yang sebelum ini hangat dicanang-canangkan dengan rumous akan meninggalkan skuad Gunners dan akan beralih angin ke Fiorentina, yang mana menunjukkan minat mendalam untuk memilikinya. Tetapi akhirnya hajat Fiorentina itu tidak menjadi kenyataan dengan ura-ura yang dikatakan menyebabkan kegagalan perjanjian itu disebabkan permintaan harga yang tinggi dari Arsenal dan tidak mampu direalisasikan Fiorentina. Aku rasa permintaan harga yang tinggi itu sangat patut bukan saja pada Eboue tapi untuk player-player Arsenal lain terutama tonggak utama, kerana dengan nilai yuran yang tinggi kita akan mampu untuk menampung kekosongan player yang keluar dengan mengisi player baru yang berkualiti. Al-maklumlah kalau mahukan player yang berkualiti, harganya pun berjuta-juta, kalau nak harapkan kutipan duit stadium memang tak cukuplah. huhuh! Sementara itu, 1-2 minggu ini kem Arsenal dipanaskan pula dengan Barcelona cuba ingin memancing Kapten muda Arsenal, Cesc Febregas, tiba-tiba muncul pula nama Eboue dikaitkan dengan Barcelona.
Dengan tiada lagi signing baru untuk Arsenal, aku tidak fikir yang Arsene Wenger akan melepaskan player Arsenal yang ada sekarang ini keluar melainkan ada pertukaraan saling. Kerana bagi aku Eboue ini sangat penting dalam perancangan taktikal Arsene Wenger kerana dengan kemampuan yang ada pada Eboue yang mampu bermain di mana-mana posisi. Ia akan memberikan pilihan yang lebih luas untuk Arsene Wenger menempuh musim yang panjang tahun ini.
Menurut sumber berita, minat Barcelona itu adalah sebagai langkah dari pengendali Barcelona, Pep Guardiola yang ingin mengunakan eboue sebagai "sandarkan kepada kenangan" untuk back-up bek kanan pilihan pertama mereka Daniel Alves.
Spekulasi terbaru itu, telah juga menarik minat Eboue yang dipetik berkata di Skysport.com;
It is an honour to be linked with the best team in Europe, that means I am valued by people.

"I have lost my Arsenal place, and, while the papers talked about Fiorentina, nothing happened, so I don't know about Barcelona. Let's wait and see."
Aku harap rumours ini akan terus berlalu seperti air sungai yang berlalu tanpa penghujungnya, kerana bagi aku? Arsenal tidak boleh lagi kehilangan player di saat liga 2009/10 sudah bermula, Apa yang penting kita harus fokus untuk mengapai dan mencari kegemilangan mengucup tropi yang sudah 4 tahun tidak kita kecapi...Walaupun secara logiknya, Arsenal dah pun mengucup tropi baru-baru ini iaitu Emirates Cup. huhuh! Tapi maksud aku tropi-tropi utama terutamanya EPL Champion League. aku rindukan kejayaan Untouchable 2004 itu....Kembalikanlah!
Go! Gunners!!! Inilah tahunnya.