Everton 1

:

6 Arsenal
Saha (88')

:

Denilson (25'), Vermaelen (36'), Gallas (40'), Fabregas (47', 69'), Eduardo (88')


Venue: Goodison Park, Liverpool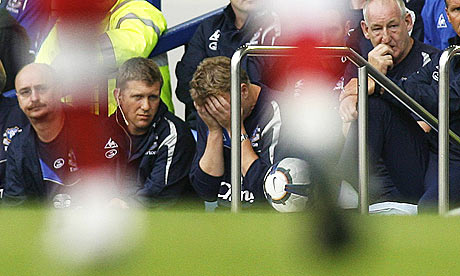 Yang terbaik dari gudang senjata! Arsenal telah menunjukkan satu prestasi memukau pada pembukaan tirai 2009/10 dengan mengejutkan Everton 6 - 1 di Goodison Park. Sebelum bermulanya liga ramai pihak yang mula meragui kemampuan Arsenal untuk terus tersenarai dalam "Big 4" dalam EPL ini. Tapi dengan keputusan perlawanan pertama ini, Aku yakin Arsene Wenger berjaya menutup mulut pengkritik yang tidak mempercayai pendiriannya yang telah meletakkan kepercayaan tinggi terhadap kemampuan player mudanya.
Arsenal vs Everton Highlights 6-1

Dengan keputusan yang super-duper itu, Arsenal terus memanjat puncak tangga liga dengan kelebihan jaringan. Walaupun ada beberapa perlawanan yang bakal berlangsung yang melibatkan pasukan seperti Manchester United, Liverpool, Tottenham dan Birmingham selepas ini. Aku yakin kedudukan Arsenal ini akan bertahan.
Sementara itu, Thomas Vermaelen berjaya membuat debut pertama dan dipasangkan dengan rakan sejawat di bek tengahnya William Gallas. Hasilnya, sempena meraikan penampilan pertama mereka dipasangkan kedua bek tengah Arsenal ini telah menjaringkan gol pertama peribadi masing-masing pada separuh masa pertama. Secara tidak disengajakan juga kedua mereka menjaringkan gol tersebut menggunakan kepala. Apa yang dapat dilihat dari penampilan kedua bek tengah, positif! aku boleh katakan yang kita tidak perlu lagi risau selepas pemergian Kolo Toure ke Manchester City.
Thomas Vermaelen (no 5) meraikkan gol pertamanya untuk debut pertama dengan Arsenal bersama rakan seperjuang.
Walau bagaimanapun, Tirai pesta gol Arsenal telah dimulakan oleh Denilson pada minit ke-25, hasil gerak kerja yang dilaksanakan oleh Bentdner seterusnya melakukan hantaran kepada kapten Arsenal, Febregas; yang bijak melorongkan bola ke Denilson yang terus melakukan sepakan deras menuju terus ke sudut atas kanan gawang everton yang tidak mampu digapai oleh keeper Everton, Tim Howard. Kedudukan 3 - 0 selepas tamat separuh masa pertama telah meletakkan Arsenal terus dalam kedudukan yang selesa.
Masuk separuh masa kedua dimulakan, Arsenal terus menerus meletakkan tekanan ke atas Everton di depan penonton sendiri dengan Cesc Febregas telah menjadi "duri dalam daging" menghasilakan 2 gol yang masing-masing pada minit ke-47 dan ke-69, sebelum di gantikan A. Ramsey pada minit ke-73. Cesc Febregas juga telah dijulang sebagai "Man of the match" pada malam itu. Tahniah kapten...huhu!
Eduardo telah melengkapkan malam gilang gemilang Arsenal untuk pembukaan pertama EPL ini dengan jaringan minit ke-88, Ia berpunca sepakan dari Arshavin yang mengenai palang yang melantun terus ke kaki Eduardo seterusnya melakukan penyudah mudah. Everton akhirnya berjaya juga mencuri gol saguhati hasil dari L.Saha pada minit-minit terakhir masa kecederaan.
Kejadian sebenarnya formasi dari Arsene Wenger seperti berikut:- (4-2-3-1)
-----------------Almunia----------------
Sagna-----Gallas-----Vermaelen-----Clichy
--------Song-----Denilson--------
-----Bentdner(Eboue'63)-----Fabregas(Ramsey'73)-----Arshavin-----
-----------------RVP(Eduardo'73)-----------------

Subs: Eduardo, Aaron Ramsey, Mikael Silvestre, Vito Mannone, Emmanuel Eboue, Kieran Gibbs, Fran Merida
Lain-lain perlawanan Premier League yang berlangsung pada Sabtu, 15 August 2009.
Chelsea 2 - 1 Hull City
Aston Villa 0 - 2 Wigan Athletic
Blackburn Rovers 0 - 2 Manchester City
Bolton Wanderers 0 - 1 Sunderland
Portsmouth 0 - 1 Fulham
Stoke City 2 - 0 Burnley
Wolverhampton Wanderers 0 - 2 West Ham United