Arsenal 1

:

1 Leeds United
Cesc Fabregas ('90)
:
Robert Snodgrass ('54)
Vanue:

Emirates Stadium, London


Referee:

P Dowd
Match Report | Arsenal 1 - 1 Leeds United, FA Cup (3rd Round)
Ikutkan kepada statistik terkini Arsenal, Menang, Seri, Menang, Seri...Aku terus menjangkakan sepatutnya perlawanan ini kita kena menang, walaupun aku tahu Wenger tidak akan menurunkan sepenuhnya skuad utama, tapi skuad yang diturunkan pagi tadi sebenarnya sudah 'cukup-cukup sedap' untuk memberikan tiga mata kepada kita, Tapi itulah Arsenal! Kejap diberikan aku kegembiraan yang melampau-lampau sampai terbang aku dibuatnya, kekadang inilah hakikatnya yang aku kena terima seperti perlawanan di Piala FA pagi tadi.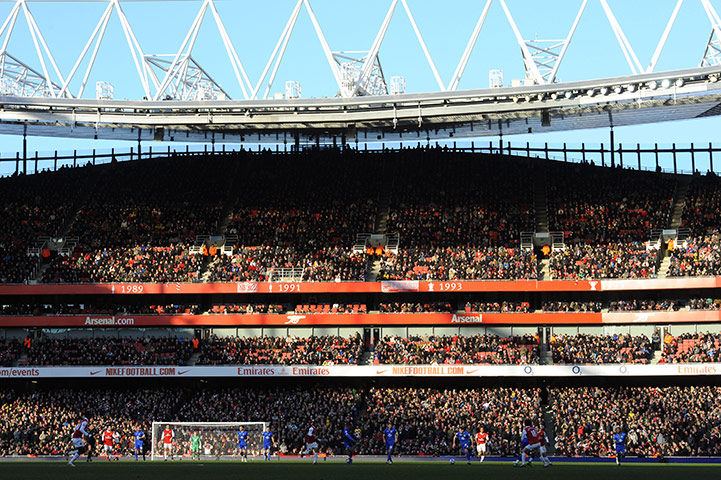 Sinar mentari menerangi Emirates: "Ku sangkakan The Gunners mudah menang dengan Leeds tidak mampu melawan, rupanya seri diakhir perlawanan"

Arsene Wenger dan Arsenal nyaris menanggung aib tercicir untuk pertama kali di babak ketiga Piala FA, Terima kasih kepada kapten, Cesc Fabregas muncul penyelamat datang dari bangku simpanan untuk mencetak gol penalti di minit-minit akhir untuk memberikan Arsenal seri 1-1 dengan pasukan dari Championship, Leeds United.
Leeds, yang mengalahkan Manchester United di Old Trafford di pusingan ketiga musim lalu, tampak bakal mengulangi episod sama untuk memenangi perlawanan pagi tadi setelah Robert Snodgrass mencetak gol menerusi sepakan penalti di minit ke-54 selepas Max Gradel dijatuhkan Denilson.
Seperti dijangkakan, Arsene Wenger melakukan pertukaran pemain di kesebelasan utama hampir 90% dengan hanya meletakkan Alex Song dan Johan Djourou antara kesebelasan yang mencatat seri tanpa jaringan ketika melawan Manchester City. Nicklas Bendtner di gunakan mengemudi sayap kanan dengan Chamakh kembali berada di kedudukan asal sebagai penyerang tunggal.
Keseluruhan jentera serangan Arsenal dilihat tidak berfungsi seperti diharapkan, Bendtner tidak cukup serasi untuk bertindak selaku pemain sayap apabila dilihat gagal untuk membuat tekanan kepada kubu lawan, hal yang sama juga berlaku kepada Chamakh dan Arshavin. Paling aku kecewakan Arshavin, dia seperti seorang yang berbeza musim ini, dia hilang 'magik' seperti di awal aksi kehadiran di Arsenal terutamanya aksinya di Anfield ketika menjaringkan 4 gol, aku pun tidak pasti adakah kegagalan skuad Rusia ke Piala Dunia di Afrika masih terus memberikan 'impak' mendalam kepada dirinya! Mungkin jugalah! Ini tidak boleh disangkal juga dengan faktor usianya yang sudah menjangkau 30 tahun. (Orang cakap! bila tua-tua ini emosi lebih....huhu!) Dalam tempoh ke Piala Dunia akan datang, apa saja mungkin berlaku! kerana faktor usia juga mungkin prestasi beliau tidak akan seganas ketika aksinya di Euro 2008, Jaminan untuknya beliau terus berada dalam kesebelasan utama Rusia pada piala dunia akan datang juga belum dapat dipasti dengan kehadiran ramai pemain-pemain muda Rusia yang bersedia untuk memuncak! Tapi, aku harap aksinya itu hanya kerana faktor biasa, biasalah setiap pemain ada musim turun naiknya! Fikir positif!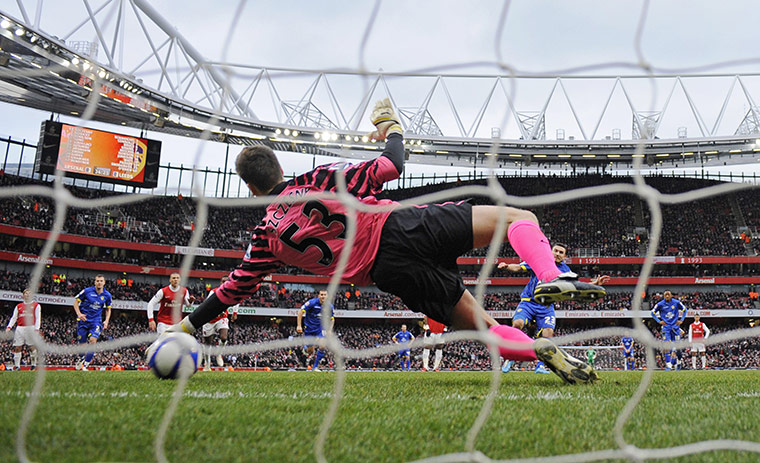 Tidak bernasib baik, skit jerk: Szczesny gagal menghalang sepakan penalti Snodgrass, memberikan Leeds mendahului dengan 1-0
Berbalik kepada perlawanan! Selepas ketinggalan 1-0 kepada Leeds hasil jaringan penalti Snodgrass, Bos Wenger mula bertindak balas dengan memasukkan Cesc Fabregas dan Theo Walcott bagi menggantikan Alex Song dan Chamakh. Kemasukan dua pemain kepercayaan Wenger itu nyata mula membawa sinar cahaya kepada kualiti serangan Arsenal, terutamanya dari Walcott yang membawa dimensi pecutan dengan hantaran-hantaran ke kotak lawan yang lebih segar berbanding babak pertama yang dilihat lemau. Rakan sejawatnya di Leeds, Grayson yang mula perasan yang Wenger mahukan gol penyamaan bertindak memasukkan pertahanan kelimanya, Leigh Bromby untuk mengubah kepada formasi bertahan 5-4-1.
Lagi temui keeper lawan yang cemerlang, selepas Joe Hart tempohari: Arshavin sudah jelir lidah, Ingat dah boleh celebrate gol, tapi digagalkan kecemerlangan Kasper Schmeichel
Walau bagaimanapun ia tidak dapat menghalang Walcott dan rakan-rakan terus memberikan tekanan ke atas skuad bimbingan Grayson, tapi barisan pertahanan Leeds terus kukuh berdisplin bertahan sehingga tiba di minit ke-88, tindakan Ben Parker yang menarik baju Walcott membawa padah, apabila pengadil perlawanan, Dowd menunjukkan isyarat sepakan penalti buat Arsenal, dan tugas itu disempurnakan cemerlang oleh Fabregas untuk menyelamatkan Arsenal dari bungkus!
Di tanya kepada Walcott mengenai kejadian yang membawa kepada sepakan penalti itu, Walcott dipetik berkata:
"I thought [Dowd] did give the penalty to be honest. I just want to apologise to the managers, I actually dived trying to win the penalty.

"I said to one of their players would you have done it if it was the last few minutes and he said he I probably would have done it.
Sementara itu, Fabregas juga dipetik mengulas mengenai prestasi Arsenal ketika ditemubual ITV:
"It was a very difficult game, we didn't pass the ball well enough or quick enough in the first half and they got confidence from that and then they got a penalty,"

"But we managed in the last 30 minutes to produce a good performance and put them under a lot of pressure.

"Their keeper should be given the man-of-the-match award. He was fantastic."
Match Highlights
(Video)
Yang 'hanyut' atau tak sempat nak bangkit, ini ada sedikit sedutan jaringan gol untuk perlawanan semalam.
Selepas ini beberapa perlawanan di Piala FA akan terus berlangsung, terutamanya yang mencuri tumpuan peminat-peminat EPL pastinya pada minggu ini dimana bakal berlangsung pertemuan Manchester United menghadapi Liverpool, yang akan dipimpin oleh pengurus baru mereka Kenny Dalglish. Juara Piala FA musim lalu, Chelsea akan berhadap sebuah kelab dari liga Championship, Ipswich Town.